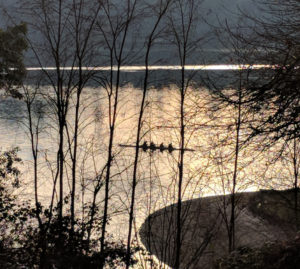 Burton Beach Rowing Club is dedicated to developing athletes of all ages with character, integrity, and grace.
Our primary goal: to encourage rowing community engagement, inspire a passion for the sport, and foster a drive for excellence both on and off the water.
The BBRC is athlete centered to provide an experience wherein hard work and positive attitudes get rewarded with increased opportunity.
We promote physical and mental well-being, leadership skills and camaraderie in a competitive yet fun environment.
Want to Get Involved or Support our Club?
Contact Us
Our Story
In January 2018, BBRC formed to fulfill the need for a highly competitive Junior rowing program on Vashon Island, Washington. Within a few weeks the club had 6 boats, 10 rowers, a contract with a world-class coach and, thanks to generous support Camp Burton, a launch site and a home for our boathouse. Our inaugural season was a smashing success, bringing home multiple medals from every regatta in which we participated. Two of our rowers qualified for the USRowing Youth National Championships, where BBRC had the distinction of being the youngest club out of nearly 150 clubs from across the country. One of our rowers made it all the way to the Junior World Championships on the US National Team. 
Coach Richard Parr
Richard Parr is a world-class coach with more than 30 years experience working with elite athletes around the world. His former athletes have more than 250 medals from the Olympics, World Championships and World Cups. At least one athlete at every club he has coached has become an Olympic medalist or World Champion. Richard builds champions by instilling skills for success both on and off the water: hard work, integrity, kindness, and persistence.